About IV Nutrient Therapy
A simple and effective way to boost your overall health, IV nutrition therapy works from the inside of your body to address a variety of concerns. Our team at Vital Health & Wellness Center in Houston, TX is happy to work with our patients to develop individualized IV nutrient treatments that can fill a variety of needs, including improving the side effects of a night out drinking, helping to combat feelings of fatigue, jump-starting a weak immune system, and overcoming mineral deficiencies. This treatment can also noticeably improve the look and feel of your skin's appearance. During a consultation with board-certified physician Dr. Karla Vital, you can have a conversation about your particular symptoms and other concerns before developing a customized treatment plan that may include IV nutrition therapy. Be sure to contact our office to schedule an appointment or to learn more about this treatment.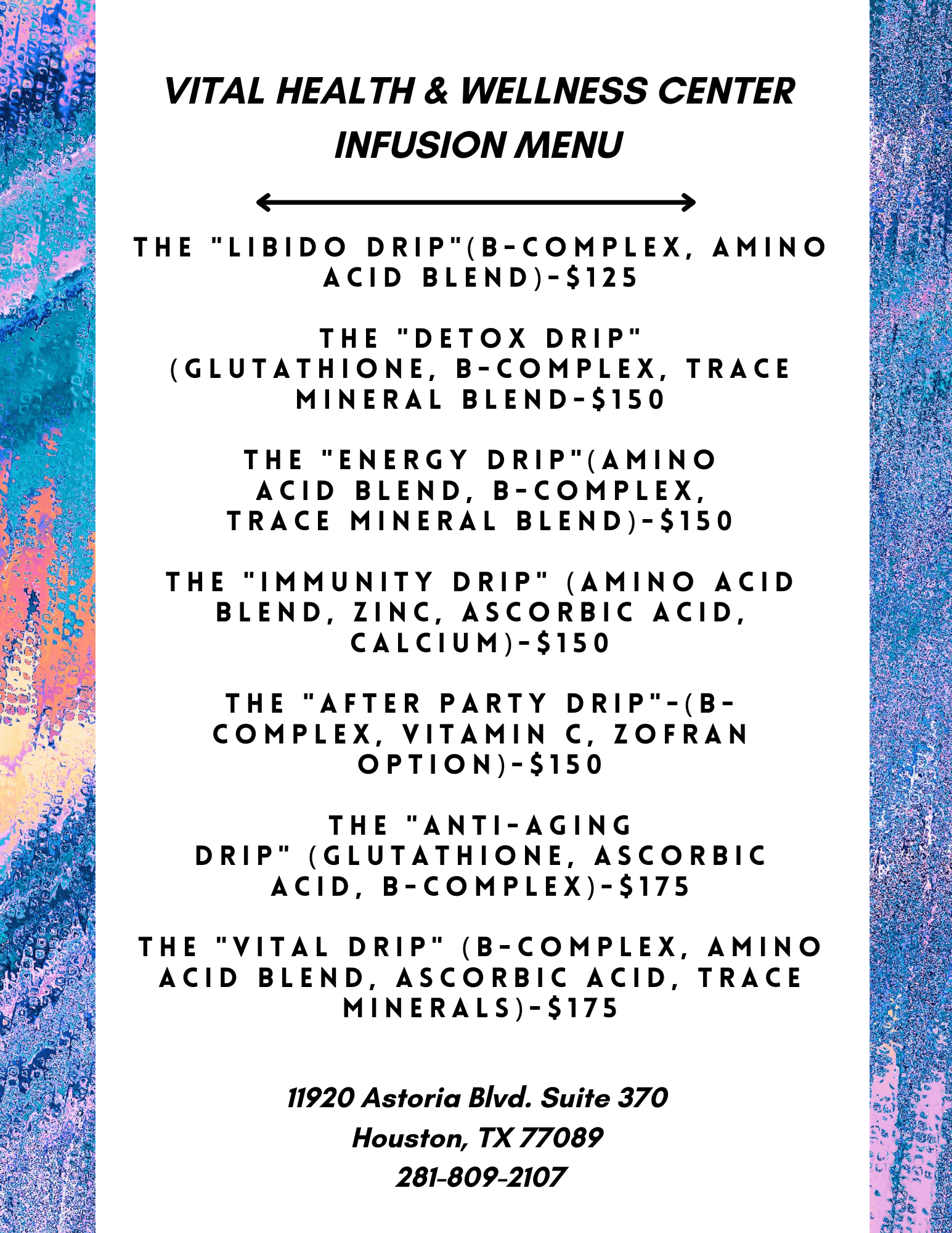 Reviews
"Friendly staff! Amazing doctor!"
- B.H. /
Facebook /
Mar 20, 2019
"Truly amazing!! They helped me alot with my weight loss and I'm keeping it off with great results!!!!"
- C.V. /
Facebook /
Nov 07, 2019
"I love coming here. Everyone is always so nice and helpful. Dr. Vital is very attentive. She takes the time to sit and talk with you about your goals and the best way to achieve them. They also have several new treatments that are a great compliment to your regimen. Check them out. You won't regret it."
- P.C. /
Facebook /
Oct 07, 2019
"These people are awesome. They have been helpful and encouraging and I'm seeing the results of the advice and plans they've made with me. I highly recommend Dr. Vital and her assistant, Star! 🌟"
- H.M. /
Facebook /
Sep 27, 2019
"Dr. Vital and her staff are amazing! Always feel as though I'm being treated with understanding and kindness! Thanks!"
- M.G. /
Facebook /
Sep 19, 2019
Previous
Next
Although many individuals would be ideal candidates for IV nutrition, Dr. Vital will be sure to keep your safety in the utmost consideration by first discussing your personal medical history and current lifestyle before suggesting any particular treatment methods. In most circumstances, the patients that would benefit the most from this treatment are people who:
Have a desire to improve their overall health
Struggle with a weak immune system
Experience regular fluctuations in their mood
Have dehydrated or unhealthy-looking skin
Suffer from chronic fatigue
Have deficiencies of important vitamins or minerals
Dr. Vital will first discuss which treatment options will best suit your needs and personal wellness goals during a consultation at our facility in Houston. Once a personalized plan has been developed, the treatment will be safely administered in a private procedure room. After the IV has been inserted, the procedure should require no more than one hour to be completed. Our patients have described little to no discomfort during this process, and many have said that they can feel the benefits almost immediately. You are welcome to read or relax comfortably while waiting for the procedure to finish. After the process has completed, a small bandage will be used to cover the insertion point, and you will be free to continue your regular daily activities.
You can normally expect to feel the effects of your nutrition therapy even before the procedure has been fully completed. Although you may not notice the outwardly visible effects until late that same day or the following day, it is entirely normal to start feeling revitalized in only a short amount of time. There is no required recovery or other downtimes as a result of this treatment and no specific aftercare regimen needs to be followed. Patients are able to remove their bandage at their own convenience later the same day of the treatment.
Related Services
Vital Health & Wellness Center is proud to offer IV nutrition therapy to residents of Houston, TX who may be suffering from various health, wellness, or other aesthetic concerns that they suspect may be a result of lacking specific vitamins, minerals, or other essential nutrients for the body. Schedule a consultation with board-certified physician Dr. Karla Vital by contacting our office in order to learn more about the benefits of IV nutrition and our other health and wellness treatment options.