Surviving the Daniel Fast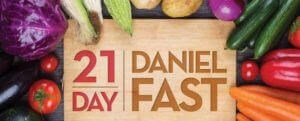 It seems that Fasting is all the rage nowadays. Intermittent fasting, alternate day fasting, reverse fasting, you name it. Do you often wonder if this is a passing fad, or if it here to stay? Well I'm here to report my personal experience over the last three weeks, when I tried the Daniel Fast along with several members of my family. Although our initial motivation was inspired by a Sunday Church sermon and a desire to incorporate more prayer and meditation in our lives, the experience sparked a healthy lifestyle change in our family. I will share with you 5 things I learned during the 21 day fast, and ways to make your experience more tolerable.
#1) It takes several weeks to form a habit. Therefore, don't be discouraged if you experience cravings during the first few days.
We embarked on The Daniel Fast for 21 days, and the first week was quite a challenge. However, grocery shopping and meal prepping in advance were definitely important keys to success. By the second week things became much easier, and by the last week meal planning became a breeze. The fast eliminates animal products, preservatives, fruit juice, wine and alcohol. It includes fruits, vegetables, beans, nuts, and grains. Although several modifications now exist that allow the inclusion of nut based milks and fruit juices, the original version is provided below.
#2) Liquids are your best friend.
Nut based milks and vegetable juice contain far less sugar than fruit juice. Water is a zero-calorie liquid that can be consumed at all times of the day. However, coffee and other caffeinated energy drinks should be avoided. Allow the added green juices to be your source of energy, and consider the addition of herbal teas if desired. Although water is the easiest liquid for your kidneys to filter, sometimes variety is desired. The addition of coconut milk, almond milk, and cold pressed vegetable juices proved instrumental in encouraging my children to participate in the fast. They also serve as an excellent base for homemade smoothies. Strive for more vegetable juices, and eat your fruit for a nice balance. This will highlight the natural sugars and fiber that are found in fruit, and provide a reset of your taste buds moving forward.
#3) Legumes (Beans) and nuts are excellent sources of protein.
Many of us were raised to believe that a meal is not complete without a meat-based dish, but there are other ways to meet your daily protein requirements. A (4) ounce serving of chickpeas and quinoa contain around 8 grams of protein, edamame and lentils both contain nearly 9 grams of protein, whereas almonds contain more than 16 grams. Even peanuts contain 20 grams of protein per 4 ounces. Recipes for hummus and bean-based soups are easy to make and extremely filling. Ziplock bags of pre-portioned nuts provide an excellent snack on the go. Sprinkling chia and hemp seeds on salads can also add an extra protein boost.
#4) Avoid fast food restaurants.
Admittedly, this one may take longer to adapt to. However, by preparing your foods, you can be absolutely certain of all of the ingredients and the lack of hidden preservatives. Most fast food restaurants are laden with sugar, salt, and fat. They also usually contain unhealthy oils. Restaurant meals rarely come with nutrition labels, so plan ahead by packing meals and snacks for work/school in advance. With more limited food groups to choose from, planning actually becomes easier. This may also help you to slow down while eating, and savor meals more completely. We also personally saved a significant amount of money by eating more meals prepared at home.
#5) Use your new found time wisely.
Once you discover additional time in your day, add relaxing therapies such as prayer, meditation, and/or yoga. There is no limit on which ones you decide to incorporate. The origin of the Daniel fast comes from verses in the Bible, that detail Daniel fasting for three weeks. During this period, he spent additional time developing a deeper, spiritual connection through prayer. By simplifying our meals, we can use the extra time to understand that food is merely a tool to nourish our bodies. Prayer and meditation can also help to decrease food cravings by removing food from our all-consuming focus point. Focus instead on adding back a little gratefulness into every day.
So regardless of your reason for fasting, Be encouraged! The beginning of your fast may be difficult, but the benefits are long-standing and worthwhile. Also, please check with your personal physician for any underlying health related concerns that would prohibit you from participating.
Dr. Karla Vital is a Board-Certified Nephrologist and Bariatric Medicine Physician who is accepting new patients at Vital Health and Wellness Center in Houston, Texas. Call today to schedule an appointment. Stay connected on Instagram@drkarlavital, on Twitter@drkarlavital, and on Facebook @vitalhealthandwellness.